Register for the free Ecos email Contents Alert service
WIN A BOOK each month!
One lucky registrant to the free ECOS Contents Alert service will be randomly selected as a winner of our book prize each month.
The current book prize is Out of the Scientist´s Garden (valued at $34.95).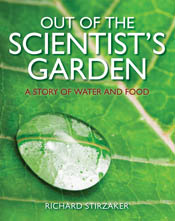 Simply register for the Contents Alert service, ensuring you enter a valid email address.
Not only will registrants be conveniently sent links to the most recently published free articles, but they might also take home this book written for anyone who wants to understand food and water a little better.
Please note: winners will be drawn from readers registering between 12pm, midnight on the first of each month and 12pm, midnight on the last day of each month. Only one registration is permitted per person. Winners will be notified via their registered email address.
You can read more here about the use of your information and our privacy commitments.